UNIVERSITY OF NIGERIA, NSUKKA
OFFICE OF THE REGISTRAR 
TO:   University Community

REF: UN/RC.124/S.1

FROM:  Registrar

DATE:   January 14, 2021
SUBJECT:      RESUMPTION OF ACADEMIC ACTIVITIES FOR 2019/2020 SESSION
This is to inform the Staff, Students and the general public that Senate of the University of Nigeria at its 404th (Emergency) Meeting held on Tuesday, January 12, 2021 approved the resumption of academic activities for the remaining part of 2019/2020 session as follows:
Postgraduate Students –           Monday, January 18, 2021
Undergraduate Students –           Monday, January 25, 2021
The University Administration will ensure strict adherence to prescribed NCDC protocols for the safety of both staff and students of the University. Consequently, students are to note the following:
All Students must wear face masks and carry hand sanitizers before they will be allowed access to hostels, classrooms and any office in the University;
Students are expected to utilize the handwashing materials provided in designated places in the University to wash their hands properly as they gain entry and depart various places;
Students must comply with social distancing rules;
Students are advised to strictly observe hostel rules to avoid overcrowding in the hostels;
Students are to use ICT tools such as official emails, WhatsApp, text messages and phone calls to avoid overcrowding;
Infrared thermometers will be provided to check the temperature of students before entry into hostels and lecture halls. Students with temperature above tolerable levels or exhibit other symptoms of corona virus will be referred to the University's medical facilities.
/Sgd./
Dr. Chris C. Igbokwe
Registrar
GOVERNING COUNCIL ELEVATES 12 SENIOR STAFF TO DEPUTY DIRECTORS IN UNIVERSITY OF NIGERIA, NSUKKA
The Governing Council of the University of Nigeria Nsukka at its 274th Regular Meeting considered the Report and Recommendation from its Appointment and Promotions Committee (Senior Administrative and Technical Staff) and approved the promotion of 12 Senior members of staff to the position of Deputy Director, Deputy Registrar and Deputy Bursar, 4 others were promoted to the equivalent rank of Principal Medical Officer I.
Among the officers promoted to these enviable positions in the Registry Department is Dr. Mrs Ada Nwodo who was promoted to the rank of Deputy Registrar/Deputy Director Registry Services. Before her present appointment, Dr. Mrs. Nwodo was a Principal Assistant Registrar and the Alumni Relations Officer of the University.  She at one time served as Faculty Officer in the Faculty of Pharmaceutical Sciences.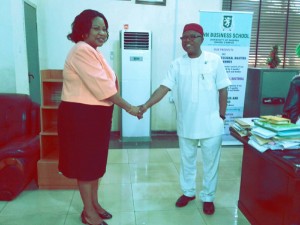 Dr. Mrs Ada Nwodo
Mr. Leo Ezeme, former Principal Assistant Registrar in School of Postgraduate Studies and previously at the office of the Vice Chancellor was also elevated to the rank of Deputy Registrar/Deputy Director Registry Services.  He is presently deployed in the SERVICOM Unit of the University.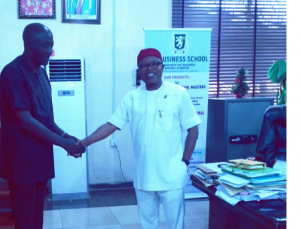 Leo Ezeme   
Other beneficiaries are as follows:
Ozoadibe Elvis Emeka Deputy Bursar/Deputy Director Bursary Services
Ndili Stephen Ebialim             Deputy Bursar/Deputy Director Bursary Services
Ugwuogo Fidelis Omeje Deputy Bursar/Deputy Director Bursary Services
Okeke Ndidiamaka Zita Deputy Bursar/Deputy Director Bursary Services
Ebguluzor Deborah Uzoamaka Deputy Bursar/Deputy Director Bursary Services
Edelugo Nneka Ngozi Principal Medical Officer I
Ogbunne Ikechukwu Ferdinand Principal Medical Officer I
Asadu Peter Okonkwo Principal Medical Officer I
Ugwu Vitalis Nnaemezie Principal Medical Officer I
Uduma Chinyere Principal Medical Officer I
Nelso Dorathy Chinyere Deputy Director, Library Services
Ekwelem Okechi Chima Deputy Director, Physical Planning
Ojonta Obed Ifeanyichukwu Deputy Director, Academic Planning Unit
Obaragwu Chidulem Japhet             Deputy Director, ICT/IMS
Ekeke Lazarus Anariochi Deputy Director, ICT/IMS
Barr. Ekpere F. Ezeugwu
Principal Assistant Registrar (Council Affairs)