PROFILE OF THE REGISTRAR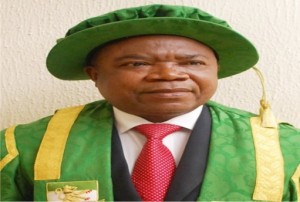 DR. CHRISTOPHER CHUKWUDI IGBOKWE,
DBA, LL.M, B.L, LL.B, B.Sc; MNIM, FCAI, FCPA
Christopher Chukwudi Igbokwe is the Registrar of the University of Nigeria, Nsukka; Nigeria's first indigenous University, established in 1960. Prior to this, he had served as the Registrar of Enugu State University of Science and Technology in Enugu State, Nigeria. He has over 33 years' experience in public service of which 26 has been in the University management and administration.
Christopher Chukwudi Igbokwe has the following academic qualifications: Master of Laws (LL.M) Degree (International Humanitarian Law), Enugu State University of Science and Technology (2016); Barrister-at-Law (B.L), The Nigerian Law School (2005); Bachelor of Laws (LL.B) Hons, University of Nigeria, Nsukka (2004); B.Sc (Hons) in Microbiology, University of Nigeria, Nsukka (1984); West African School Certificate (WASC) (1977); and First School Leaving Certificate (1972).
Other qualifications include Doctor of Business Administration (DBA), in Educational Leadership (Honoris Causa), Commonwealth University (2018); Master Class Certificate in e-Learning and Digital Marketing, London Graduate School (2018); Certificate in Information and Communication Technology, UNESCO Bangkok e-learning series (2018).
He is a Fellow, Certified Public Administrators of England and Wales (2013), and Institute of Corporate Administration, Nigeria (2011). Member, Nigerian Institute of Management (NIM), Association of Nigeria University Professional Administrators (ANUPA), Association of University Administrators, UK and Nigerian Bar Association. Member, Board of Governors, School of Health Technology, Oji River (1999-2002), Nigerian National Committee, West African Examinations Council (2014-2016 and 2020-2022), Nigerian Examinations Committee (NEC), West African Examinations Council (2014-2016 and 2020-2022), Governing Council, Institute of Management and Technology, Enugu (2020-Date) and Executive Director, ESUT Trust Fund (2015-2016).
Dr. Igbokwe is a Special Merit Award recipient, Association of Registrars of Nigerian Universities (2015); Winner 2013 South-East Distinguished Merit Award for Outstanding Leadership in Education Development in the South East, by Education Review Initiative, Abuja Nigeria (2013).
He is married with children.